Overview
Eric Victor grew up as an army brat in Germany. After graduating from high school, he joined the US Army as a chemical, biological, radiological, and nuclear operations specialist (54B/74D). During his military service, he was stationed at bases in Missouri, Georgia, Kuwait, and Iraq and participated in Operation Iraqi Freedom I and III with the 92nd Chemical Company, 3rd Infantry Division (MECH). His notable awards from his military service arethe Army Commendation Medal with one oak cluster, the Army Achievement Medal with one oak cluster, and the Presidential Unit Citation.
Upon completion of his military service, Eric attended the University of Wisconsin - Madison, where he graduated with a B.Sc. in Chemistry with honors. He performed research under the guise of Profs. John F. Berry and Bassam Shakhashiri in the chemistry department and Prof. Philipp Simon in the USDA-ARS program in the horticulture department.
Eric then continued his education at the Massachussets Institute of Technology for his Ph.D. studies working for Prof. Stephen Lippard on iron-sulfur cluster and nitric oxide chemistry. He was awarded his Ph.D. in Inorganic Chemistry in 2014.
Eric regularly performs improvisational and stand-up comedy in the greater Boston area as a hobby, and occasionally at comedy festivals around the country as well.
Brown Affiliations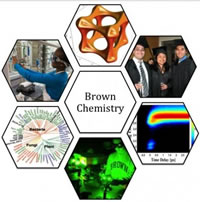 Chemistry
Research Areas