Overview
Dr. Grisson completed his undergraduate education at Johns Hopkins University in Chemistry in 2000. He subsequently obtained his MBA in 2004 from Goizueta Business School at Emory University while concurrently pursuing his MD with a special research emphasis at Harvard Medical School.  He completed his Medical degree in 2007.  
Dr. Grisson completed a Clinical Pathology Residency at the Massachusetts General Hospital in 2010; a National VA Quality Scholars Fellowship and Master of Public Health at Dartmouth Medical School and White River Junction VA Medical Center in 2013.
Expertise/Certifications: Clinical Pathology, American Board of Pathology; and Healthcare Quality Improvement.
Miriam Hospital Office: 401-793-4212
Email: Ricky.Grisson@lifespan.org
Prior Academic Positions:
Clinical Assistant Professor of Laboratory Medicine, University of Washington School of Medicine, Seattle, WA March 2013 - August 2016
Instructor of Community and Family Medicine, Dartmouth Medical School, Hanover, NH March 2011 - March 2013
Brown Affiliations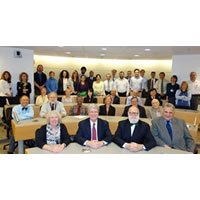 Pathology and Laboratory Medicine